The early morning weather seemed a little ominous, but luck was on our side and the rain stopped shortly before our departure, and (mostly) stayed away for the duration of the cruise.  Birds were plentiful as usual, with all the "core" breeding and resident species of the Salish Sea observed in plentiful numbers.  Pigeon Guillemots ("Puget Penguins") are squeaking and chirruping in groups near their nesting sites; they can be observed perched on cliffsides now, as well as diving for fish nearby.  Rhinoceros Auklets are seen repeatedly throughout the day, often actively fishing where small baitfish have congregated.  And we also saw at least 40 Marbled Murrelets, more than on previous trips, and this time some of them gave us good, prolonged looks at the tiny Alcids.
Slightly comical Black Oystercatchers were found in some of their favorite haunts, including one active nest, but others were absent from expected sites due to the presence of hungry Bald Eagles.  While Bald Eagles do favor fish as prey, experienced Eagles are opportunists and clever hunters, and do take everything from Oystercatchers to Ducks and Guillemots when they can.  We saw as many as twenty five Eagles throughout the cruise, which is fairly typical.  We also watched a pair of lazily soaring Ospreys near the south entrance of the Swinomish Channel.  Not far away, we passed a sandbar with a surprising mix of "puddle ducks" including dozens of Northern Pintail and American Wigeon, along with Mallards, a lone Northern Shoveller, and a pair of Gadwall.  I suspect that these birds could have been late migrants, on their way north.
The flocks of Brant (see last week's post) were, surprisingly to me, still present and very visible as we passed out of the channel into the Padilla Bay area to the north, streaming by the boat by the dozens and by the hundreds.  Any day now they will pick up and head north, en masse, to their Alaskan breeding grounds.  Also seen at the north end of the channel were many Caspian Terns (later we would watch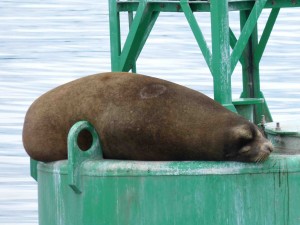 them dive, plunging like arrows after fish, in Bellingham Bay), and well over a hundred Great-blue Herons stalking the sandbars and mudflats exposed by the ebbing tide. Not far beyond the Heron convention was a somewhat amusing sight: a California Sea Lion hauled out on a buoy, looking to me just like a giant russet potato.  So if we call the Harbor Seals "Rock Sausages" when they are basking on the rocks, should we call Sea Lions "Buoy Potatoes?"
We also sighted many Harbor Porpoise and Harbor Seals throughout the day. These marine mammals are numerous and can be seen year round.
These are, of course, only a few of the many interesting birds and creatures we encounter on our Bird Cruise, as the boat slowly weaves its way through incomparable island scenery.  What a great way to spend a Saturday!
50 species today!
Common Loon: 8
Brandt's Cormorant: 6
Pelagic Cormorant: 150-200
Double-crested Cormorant: 20
Canada Goose: 10
Brant: Large flocks still present!
Mallard: 15
American Wigeon: 80
Northern Pintail: 120
Northern Shoveller: 1
Gadwall: 2
Harlequin Duck: 6
Surf Scoter: 350
White-winged Scoter: 1
Black Scoter: 1 Female
Barrow's Goldeneye: 4 (after docking)
Common Merganser: 8
Dunlin: 2
Black Oystercatcher: 10
Killdeer: 1
Caspian Tern: 70
Glaucous-winged Gull: Lots
California Gull: 25
Mew Gull: 2
Marbled Murrelet: 40
Rhinocerous Auklet: Hundreds
Pigeon Guillemot: Hundreds
Common Murre: 1
Great Blue Heron: 110
Bald Eagle: 25
Osprey: 2
Red-tailed Hawk: 1
Rock Pigeon: 20
Belted Kingfisher: 6
Rufous Hummingbird: 1
Barn Swallow: 50
Cliff Swallow: 3
VG Swallow: 70
Crow: 20
American Robin: 6
Orange-crowned Warbler: 5
Red-winged Blackbird: 4
Brown-headed Cowbird: 1
Starling: 10
White-crowned Sparrow: Many singing
Song Sparrow: A few singing
Savannah Sparrow: 4-5 heard singing
House Finch: 8
Pine Siskin: 2
House Sparrow: 10