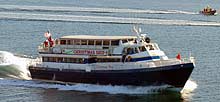 The Victoria Star is available for holiday parties this December. With festive decorations and hundreds of twinkling lights, the vessel is perfect for a family or company party. You can bring on your own food, use a caterer, or leave the cooking to us with one of our delicious meal options (including cracked crab, BBQ chicken, salmon & more). We have two bars (one on each level of the boat), serving a variety of Northwest beers and wines, as well as mixed drinks (including some holiday favorites).
Charters start at just $1000 and the boat can comfortably accomodate up to 120 people. The boat is heated, and as the largest passenger vessel in Bellingham, it'll be smooth sailing as we cruise around Bellingham and Chuckanut Bays.
For more information, and reservations, please call us at 1-800-443-4552 or (360) 738-8099. You may also view information and photos online on our Private Parties page.