Over the past few days the Resident Orcas have been frequenting the west side of San Juan Island. Letting the ebb tide carry them south in the morning and riding the flood in the afternoon, all three pods have been giving some great shows. Even the minke whales are excited, our own Capt. Don saw a minke whale breach out of the water multiple times. Something I've never had a chance to witness.
Today was another consistent morning for us on the Victoria Star with bald eagles and harbor seals to begin our cruise. It wasn't until we were halfway to San Juan Island when we got a report of orcas. Today they were breaking the chain and swimming against the ebb tide hard. We aimed north and ended up getting them right off of Henry Island at the perfect time. Our passengers got some great looks at Granny and Onyx, two J-pod orcas.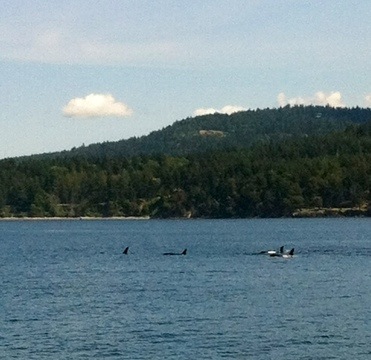 We got back to Bellingham with a boat full of happy customers, and we immediately departed on our Crab dinner cruise with a boat full of hungry customers. Chuckanut was beautiful as usual and we were docked just as the sun was beginning to set over the bay. Looks like a great weekend to be on a boat!
Captain Jeff