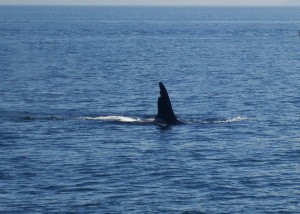 We had a couple of school field trips this week, on Thursday and Friday, and we saw lots of whales both days. On Wednesday it started out cool and overcast, with a few sprinkles of rain. By noon, it had turned into a warm and perfect sunshine day.  After a 70 day absence, J  Pod  (one of our three resident pods) had  returned to the San Juan Islands on Wednesday evening.  J Pod typically stays here year round, while K and L pods live here from June to the fall/winter season and spend the rest of the time on the outer coast.   Everyone was very excited since J pod usually isn't absent from the islands for such a long period.  However, on Thursday morning, J pod was not to be seen.  If they were on the west side of San Juan Island, it was pretty fogged in, so no one would have been able to spot them.  We headed north along the mainland coastline as there had been an early morning sighting by the B.C. ferry terminal of some Orcas. The harbor porpoise sightings were numerous. Looking out in any direction there were small pods of 2 to 6 porpoise feeding and travelling. It was literally like a porpoise "soup" out there!
We left the coastline and headed west to East Point on Saturna Island. There we encountered 3 transient orcas. Transients orcas differ in many ways from our residents. They eat marine mammals, whereas our residents eat fish. Our residents travel in family groups that stay with each other their entire lives. Transients have family ties that are not as tight and sometimes do not last for life.   We saw T063, an adult male born in 1978. He was travelling with a female and her calf. His nickname is "Chainsaw", and from the picture you can see why.  We also saw numerous Steller sea lions and California sea lions hauled out on Boiling Reef.  Male Steller sea lions can  get up to 2,200 pounds and 12 feet long. Harbor seals also shared the reef.  It was a another great day in the San Juans with numerous wildlife sightings.
On May 17th we took another school group out, and were able to find resident Orca group J-Pod, near Iceberg Pt. on the south end of the San Juan Islands. We're looking forward to more whale sightings on our Whale Watching Adventure cruises this weekend.