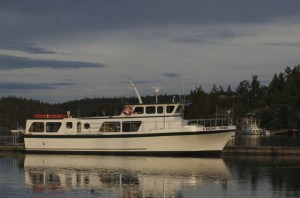 Join our guest on board naturalist, David Drummond, for an insightful and lively look at the birds, wildflowers and mammals of the San Juan Archipelago.  Venture into the San Juan Islands with us aboard the Viking Star, cruising our beautiful backyard islands with wildflowers like the Nooka Rose, while watching colorful Yellow-rumped Warblers flit and sing amongst big-leafed Maple trees. We will stop and take a look around one or two of the seldom-visited islands, walking along the forest edge, viewing and discussing the flowers and birdlife. We will also visit Bald Eagle nests, seabird cliffs and rocks and since June is one of the best months for whale watching, we will look for our resident pods of Orca whales as we go.
This fascinating foray will unveil the cultural and natural wonders of the unique island ecology through surface searches, intertidal meander, upland walking and interactive discussions with you, our guest explorers!  We look forward to sharing our novel and innovative approach to regional eco-education.
Schedule & Fare Information
June 4th, 2011
9:00am – 5:00pm
Fare: $79.00 Per Person*
* – A portion of the proceeds will be donated to the non-profit Merlin Falcon Foundation.
Info/Reservations: 1-800-443-4552 or (360) 738-8099.
This tour departs from the Alaska Ferry Terminal in Bellingham, WA.
You may bring food and beverages (non-alcoholic, in non-glass containers) on board. The Viking Star also has a snack bar with food and beverages available for purchase.
Bring with you binoculars, a camera, walking shoes, sun screen and rain jacket/windbreaker.
About David Drummond
David Drummond is an Ornithologist, and Wildlife biologist.  David's enthusiasm and expertise has opened numerous hearts and minds to natural and cultural history around the world.  This "gift for guidance" and passion for travel has found him working with small cruise ships and land tours, leading groups researching the bio-synergies of the Antarctic, South to North Pacific Islands, Canadian High Arctic, Northwest and Continental America, Central and South America, Caribbean, Svalbard, Greenland, Iceland, Europe and Israel ecosystems.  His B.S. in biology/environmental studies included a minor in cultural history at Western Washington University.  He wakes up with the birds and a "quest to know and share" everyday!
Mr. Drummond is also founder, executive director and principal investigator with the non-profit Merlin Falcon Foundation's Coastal Forest Merlin Project.  This passionate and dedicated 26 year pioneering bio-ecological study in Washington, British Columbia and Alaska is providing invaluable conservation stewardship insights on this uncommon raptor.