The day started out with Mother Nature giving us a pass, no wind and smoothe water meant good cruising. Before we even got underway we had a great report of Orca whales.
Eager to go catch up with them the Victoria Star 2 shot across Bellingham Bay on a mission but a perfect look at a mature bald eagle warranted a quick stop at Carter pt. on Lummi island.
Continuing on our way we cruised down Bellingham Channel amid a pod of Harbor Porpoise, and caught up with the whales south of Lopez island.
As we came on scene J-26 (Mike) was determined to give us a show and he stayed with us throughout the whale watch. Our passengers had a chance to eat our delicious buffet lunch while Mike breached twice off the Starboard side.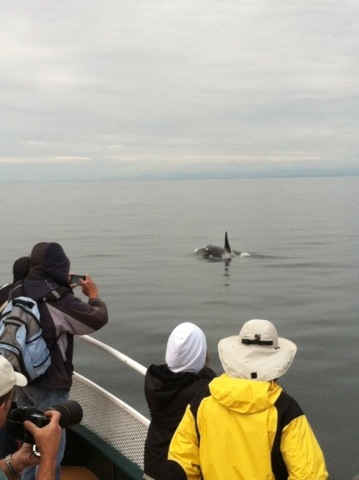 After a beautiful stop in Friday Harbor we finally cruised back to Bellingham with a sunny, calm trip to cap off the day. Another great cruise in the islands aboard the Victoria Star 2.
~ Captain Jeff