Chuckanut Cracked Crab Dinner Cruise
THE BEST WATERFRONT DINING EXPERIENCE IN BELLINGHAM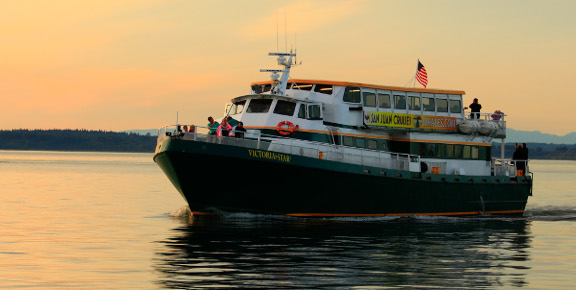 Come relax with us on this un-matched crab dinner cruise experience around Bellingham and Chuckanut Bays
Dine on the Northwest's finest Dungeness crab, as well as baked chicken, delicious side dishes, salads and dessert
Deluxe 100′ tour vessel with indoor and outdoor seating on two levels
Full bar with a selection of Northwest beers, wines and cocktails
SCHEDULE 2018
June 15 – September 23
(Fridays, Saturdays & Sundays)
| | |
| --- | --- |
| Depart Bellingham: | 6:30pm |
| Arrive Bellingham: | 9:00pm |
RATES
| | |
| --- | --- |
| Adult : | $59 |
| Youth (6 – 17) : | $29.50 |
| Child (Under 6) : | FREE |
| | |
| | |
A FEAST FOR THE SENSES!
Enjoy cruising the diversely scenic "Chuckanut Coast" as you feast on the Northwest's finest Dungeness Crab served with Baked Chicken, our signature Broccoli Salad, roasted potatoes, freshly baked bread and dessert. Go beyond the traditional waterfront restaurant experience and join us for a cruise filled with delicious food and beverages, along with scenery that you won't forget.
View the spectacular coastlines of Chuckanut Bay, the Viti Rocks National Wildlife Refuge, Eliza and Lummi Islands and Bellingham Bay on a relaxing Cracked Crab Dinner Cruise.
Savor the sweet tastes of the Northwest's finest Dungeness Crab served up with baked chicken, refreshing side dishes, fresh bread and decadent dessert.
Enjoy the company of family and friends as you absorb the summer's evening sun. Relax while enjoying a selection of Northwest wines and microbrews.
Unwind to the sounds of ocean seabirds, the splashing of rollicking harbor seals and the gentle lap of waves against the hull as you cruise along.
Take in the perfume of the fresh sea air as the sun sets over the San Juan Archipelago, bringing an end to another perfect day.
Discounted rates are available for groups of 20 or more – please call for details.
Location / Directions
Cruises depart from the Bellingham Cruise Terminal / Alaska Ferry Terminal in Bellingham, WA. Please check in at least 30 minutes prior to departure at our ticketing office inside the terminal. (Map / Driving Instructions).
Chuckanut Cracked Crab Dinner Cruise Gift Certificates
Looking for the perfect gift for friends or family? We have gift certificates available – give us a call at 800-443-4552 or stop by our office.
Cancellation Policy
If your plans change and you need to cancel your reservation, or change it to a different date, please give us a call at least 24 hours prior to departure. Reservations cancelled within 24 hours of departure are non-refundable. When you make a reservation, we will send you a confirmation letter detailing our cancellation policy. 
"For a special evening cruise dinner looking out over the San Juan Archipelago, and waters, complete with curious harbor seals and possibly and Eagle or two (we spotted a big fella relaxing at sunset along the coast), the San Juan Cruise, Crab and Chuckanut Bay Cruise is relaxed, friendly, and serves up a fresh and very satisfying meal (well prepared Dungeness Crab, BBQ Chicken, fresh broccoli burst salad, roasted red potatoes and a light and tasty tiramisu cake.) Staff works hard to be helpful and informative and just plain friendly, not forced or overdone. Bring camera, sweater, binoculars or just kick back and enjoy the view."
-gratefulguestreality
"Dinner was awesome with an abundance of crab. Wine was reasonably priced. The weather was perfect. The scenery and sunset, from a different perspective was beautiful, as were the city lights as we cruised back to shore. We would highly recommend the cruise and are already talking about doing it again next summer, but when the days are longer."
-sandyV6893ZP
"We had the cracked crab buffet. it was excellent. came with bread, potatoes, and broccoli salad. There was also chicken for those that don't like or can't eat crab. We had a perfect day – sunny and warm!!! No wind. The crew is very friendly and helpful and very attentive. Would highly recommend this – very relaxing and fun."
-rocketman000
"We enjoyed the staff — they were informative, cheerful, friendly and efficient. I enjoyed the food — the crab was just right! The salad and potatoes were great. I really didn't need the dessert which was superb but I did have some — my husband got a double with a song for his birthday. It actually was his birthday cruise! We were informed about the islands we were cruising by and I love the little island called Eliza. I felt the cruise was really interesting and delicious!"
-annfunk
"What a wonderful experience. Food was delicious, service first rate, clean, and everything ran on time. Highly recommend for everyone."
-Bobbie V